The History of Bow Ties
June 30, 2016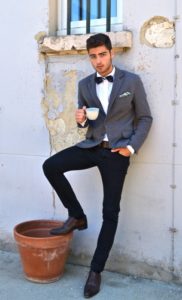 Bow ties are commonly worn by men and women alike. They are a popular choice amongst men than women. The advent of bow ties was during Croatian mercenaries in the Prussian wars that took place in the 17th century. They used to wear it around their necks to properly hold the opening of their shirts.
Their popularity grew in the 19th century as neck ties started becoming a popular choice. Bow ties actually were a modification of their predecessor, the cravat. By 1880s, bow ties became one of the most common fashion items in man's wardrobe.
The bow tie has undergone many changes since it was first launched. It has changed both its form and function and become a traditional stereotype now. People wear bow ties all the time; whether it is street style to celebrity fashion, bow ties are worn by people and they are available in a variety of looks. Generally, bow ties are now considered to be one of the most happening fashion accessories.
For a limited time, save 20% off your Spiffster Necktie Subscription with promo code "CRATEJOY20"!
The start of bow ties was in the 17th century when people were seen wearing it around their neck. They used to wear a knotted piece of fabric around the neck that added a lot of warmth and appeal to their natural suits. The bow tie was worn by Croatian soldiers during the wars where they used to wear it to keep their collar shirts intact.
By the 1700s, the bow ties became a popular choice amongst the upper class and were a main feature of men's dress.
In 1886, bow ties got a major booast as Pierre Lorillard, a renowned designer, developed a new design for it and wore it to the formal ball which was held at the Tuxedo club. His tuxedo gained immense popularity amongst people and bow ties became a hit choice amongst fashion enthusiasts.
Ever since the first launch of bow ties, they have gained immense popularity over time. In the last few decades, bow ties have changed the way we think about fashion. The bow tie has, over the years, moved out of its rigid categorization of just being something that is worn formally. It is now a fashion accessory that is worn at any event and for any purpose. Many celebrities have also worn bow ties and that has further increased their popularity. The catch? All different types of celebrities wear bow ties so there is no one particular category that does.
From Karl Lagerfeld to Manolo Blahnik, comedian Charlie Chaplin and others, everybody has been seen wearing a bow tie.
While previously, bow ties were used as a male accessory, they were worn by females in the 1920s and 30s. They were picked up by famous stars including Marlene Dietrich and others which increased their popularity as a common accessory that can be worn by males and females alike.
Bow ties have, therefore, emerged as a prime accessory for males in the 17th century to one of the most well used fashion accessory by males and females alike over the years. From their design to their type, bow ties have changed immensely over the years.