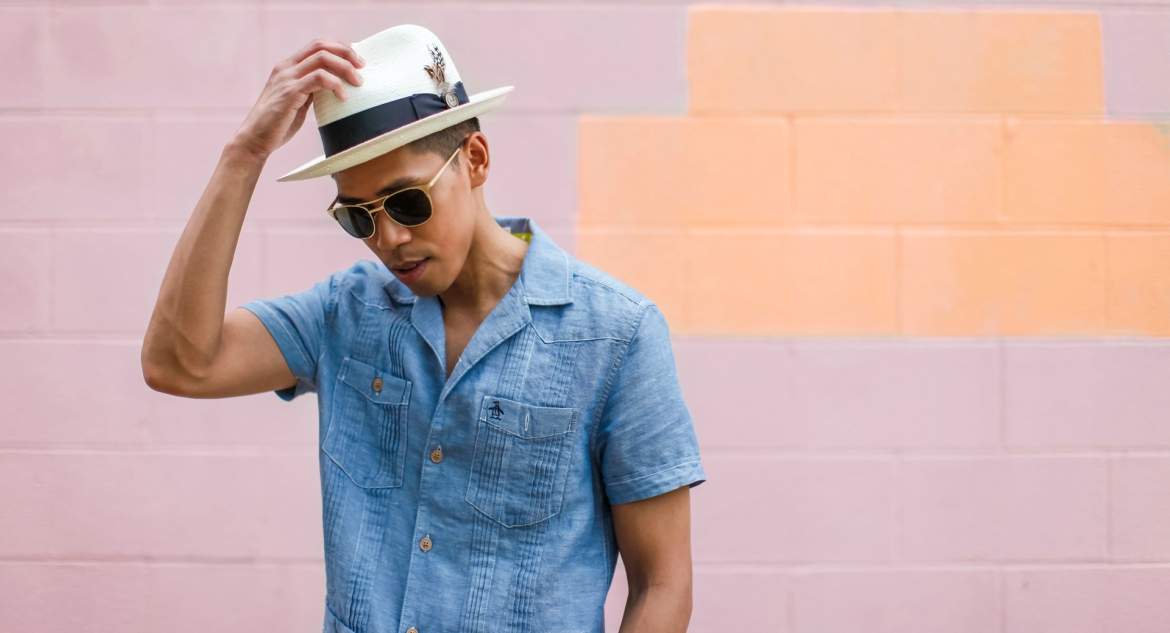 Every season comes with its own trends for how to dress. For example, during the winter season, you wear thicker fabrics and dark colors while during the summer and spring season, lighter fabrics and brighter colors are preferred. Since summer is in full swing, it is important to look hot rather feel the hotness of the sun. Here we will discuss 7 latest fashion trends for men during the summer days.
For a limited time, save 20% off your first Spiffster Necktie Subscription with promo code "LOOKSPIFFY"!
1. Wear a Hat
Hats are still very much trendy when it comes to men's accessories. Whether you are hanging out at the beach or going for a jog in the park, you should wear a hat. Not only will the hat look great on you but will save you from the wrath of the sun as well. Get either the Fedora, the Trilby, the Porkpie, the Panama, or the Newsboy and you'll shine like a true gentleman.
2. Shades are the Way to Go
Sun can affect the eyes and you have to protect them somehow. You can wear a pair of sunglasses that will not only protect your eyes but make you look 75 percent cooler than before. Amazing isn't it? While choosing shades, make sure that the design is in trend, after all, you will not want to flaunt the style of the bygone era. Look for pairs that block at least 99% of UVB rays and at least 95% of UVA rays.
To pick a style, understand your face shape.
Oval face: The oval type is the most preferred face shape, as the owner can wear any style of glasses. Avoid frames that are either too thick or too thin. Don't choose frames wider than your face width.
Square face: Any face shape has very straight, pronounced jawline and edges. It's better to pick round glasses to balance out these features. Choose wider sunglasses and avoid rectangular glasses with sharp corners.
Round face: A person with a rounder face tends to have fatter cheeks. Choose polygonal or square sunglasses that have an angle design to balance this out. Thicker frames will help.
Long face: Choose larger lenses and the polygonal frame in order to balance out a longer face. Popular retro glasses and sports glasses can be considered.
Flat face: Choose darker lenses and frames to highlight the contours of the face. Pick a brighter color frame.
3. Make a Windbreaker Your Pal
Are you living in a desert, where it still gets chilly at night? Choose a nice windbreaker. Jackets are not made for spring and summer seasons. They are only ideal for winter season. In summer season when the weather gets chilly occasionally, a windbreaker can be your move. It will make you enjoy the chilly weather while making you look fashionable.
4. Go Formal with Light Suits
Business and formal meetings see no season and you have to look as formal and professional as possible. In such scenarios when you have to look extra formal, wear suits that are made with lighter fabrics like cotton, summer-weight wool or linen. Such fabrics will make you feel more comfortable without causing any discomfort.
5. Beach Shorts
In the summer days, people especially men love going to the beach. You cannot wear formal dresses at the beach (although there are no such rules). However, you are there to enjoy your time and flaunt your style as well. Beach shorts can make you feel relaxed at the beach and the designs imprinted on them will make your trip more joyful. Don't be afraid to add some festivity to your swimwear. It is something where you can be as bold as you can.
6. Ripped Jeans
Jeans is one of the most popular men's clothing items. Those who want to carry a cool look with jeans should look for ripped or destroyed jeans. Ripped jeans although are an old trend, but they are still very much popular. Besides flaunting a cool look, you can make your legs breathe. Pair them with a simple t-shirt and sneakers. The jeans will be the focal point, so everything else should not be too over styled.