Skinny Neckties – Should I Wear them?
March 2, 2016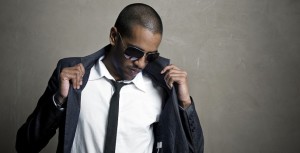 For a limited time, save 20% off your Spiffster Necktie Subscription with promo code "SPRINGTIME"!
Skinny ties first became popular in the 1920s amidst a post-war climate that encouraged cost-cutting. It then made a comeback in the 1950's, through pop icons like the Beatles and the Rat Pack – a style designed to complement fitted and tailored clothes of the time. However, in the 1970s, Elvis Presley sported thick ties making that design more stylish and the skinny ties were no longer the sought after fashion of the time. In the 1980s, skinny ties partially made an appearance, but, it wasn't until recently that the skinny tie really made its mark in the fashion world. Moreover, Christian Dior launched the "New Look" – of "a narrow silhouette" – for gentlemen, bringing the slim, somber "conservative" ties back into fashion.
The general consensus is that skinny ties look best on men that have a tall and thin built (If Chris Pratt or Tom Hardy – in his Bane days- were to wear it, their built would over power the look).
The retro look of narrow neckties is a sought after look by young and fashion oriented men. This group of men wears the skinny tie combined with jeans, and a dress shirt with rolled up sleeves and an open top collar. A skinny tie can be paired with slim suits that are perfectly tailored to the thinner frame. These ties are gaining popularity amongst celebrities and a look at the fashion and entertainment industry will show how the skinny tie is the rage. From red carpet events, to photo shoots or even after parties, celebrities and fashionistas can be spotted wearing the skinny tie. Even among musicians, skinny ties are popular and are regularly incorporated into their attire. Skinny ties aren't restricted to a certain genre of music. Bands such as "My Chemical Romance" as well as pop music stars like Justin Timberlake, all support the skinny tie – it is everywhere.
Thanks to the various industries, the skinny tie is now a part of the ever growing diverse fashion.
Skinny ties are not just restricted to men's fashion. Popular fashion designers have started to incorporate skinny ties into women's fashion providing the image of a new modern woman. Women's collection all over the world now feature skinny ties, although the length is slightly shorter than that of men and the colors are even more brighter and better.
However, it is probably safe and acceptable to wear a skinny tie to a work place if one works in a relaxed, creative environment. For businesses such as investment banks or law firms, the skinny neck tie is unsuited and will probably be frowned upon and seen as irresponsible and non-serious.
For a more generic black-tie event, stay away from the skinny tie and opt instead for a tuxedo and white pocket square. Follow the celebrities and the elite of fashion and choose solid black neckties made from fine silk.