Selecting the Right Fit – a Guide for Men's Wallets
February 1, 2017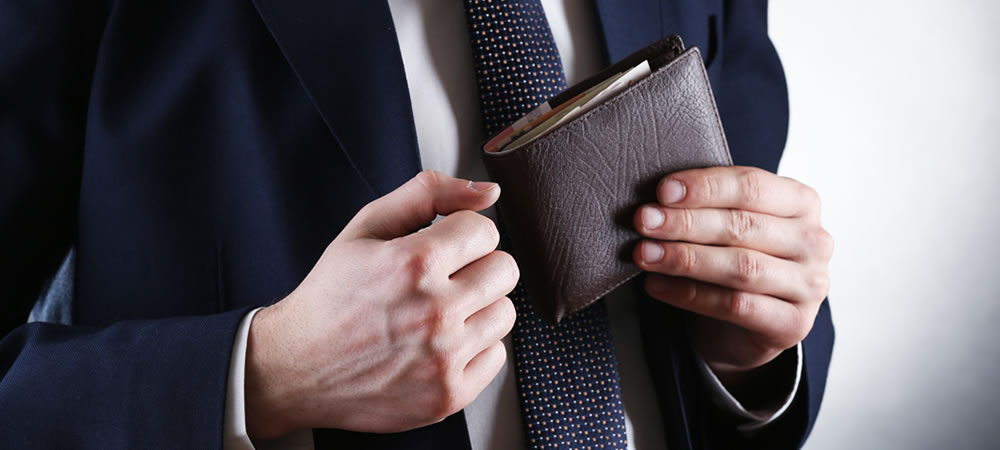 You happen to be in the check-out queue, and pull out your wallet to make a payment for something you have just purchased. Beside you, a second man pulls out his own wallet. You look down, and your frayed and tattered money-holder looks absolutely downtrodden next to the shiny, fresh piece the man by you is holding. You accept your change and shuffle on, vowing to purchase a new wallet.
For a limited time, save 20% off your Spiffster Necktie Subscription with promo code "CRATEJOY20"!
Even though you accept that its high-time to chuck the wallet that saw you through some memorable college years, it might become difficult to select the right fit. This guide will aid you in deciding on which wallet will sing true for you, and enable you to combine equal parts style and utility.
Size
Size is evidently the most crucial portion of this guide. Lay out the contents of your current wallet, and note if you are more inclined to carry cash, credit cards, or both? Do you seldom use your trusted accomplice to stow away ATM receipts and business cards? Does your wallet hold enough coins to compare to the bottom of a wishing-well?
Firstly, sort out these contents, and discard anything you might not require. Keep it simple: you need some go-to cash, your ID cards, credit cards, and perhaps a business card or two. Current style-statements lie within minimalism, so keep it neat.
Secondly, which size do you prefer? Are you drawn towards small, sleek squares, or rectangular, bulky numbers? Which option best fits your day-to-day wear? Remember – you intend to utilize this wallet, not end up stuffing all your necessities in the pocket of your jeans.
Your daily routine
Are you a college student, looking to stow away just your cash? Or are you a businessman, hoping to select a discreet piece that will not appear bulky or bulged in your suit?
For the former, clip-on wallets are the evident winner. They are discreet, small, and extremely utilitarian.
For the latter, opt for a classic leather billfold. These are sleek, impressive wallets which utilize as much storage space as you require.
If you tend to frequent the gym, select a sturdy and robust sports wallet that will see you through those sweaty runs and cardio exercises.
How often you travel
For the frequent flier, travel wallets neatly store your travel documents, passport, money, and hotel card-keys. These also come in waterproof designs, so that they can bear any adventure-induced damage. Certain tri-fold wallets are capable of holding a lot of material, whereas pouch-like wallets carry zippers to truly maximize the ease of your next travel.
What looks good
The last point boils down to what catches your eye, and best fits your personal flair and style. If a sports wallet would match well with the rest of your sporty attire, opt for one. If you prefer sleek leather shoes, and neat business ties – purchase a billfold sleek leather number. If you prefer to make a loud statement about your fashion choices, pick a colorful number that can be noticeable from a mile away. The final decision rests with you.