Necktie – To Tuck in or Not to tuck?
February 22, 2017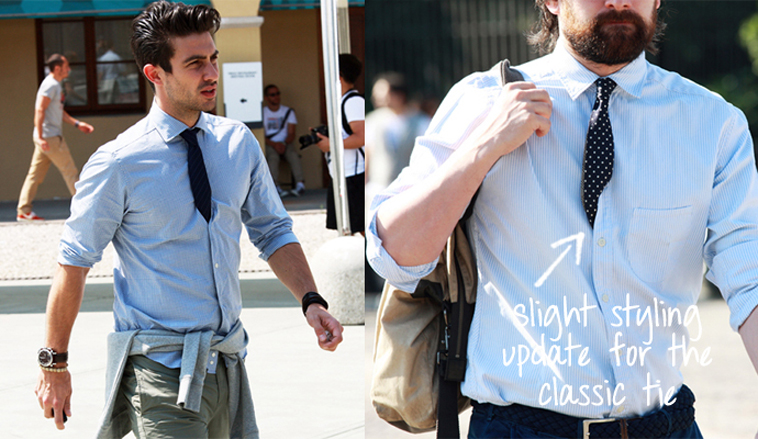 Wearing neckties with formal wear may not give you much to experiment with as you have to maintain certain decorum to exude professionalism. However, wearing them with formal wear provides you with liberty to try them in different ways and styles.
For a limited time, save 20% off your Spiffster Necktie Subscription with promo code "CRATEJOY20"!
Although ties complete an overall look of a man, a flopping tie due to windy conditions may not leave a positive impact of the individual wearing it. There are a few methods to prevent the ties from flopping in the air such as the use of tie clip, tie pin, and tie bar etc. However, one such popular method of keeping the tie in place that has been gaining popularity since the last couple of years is tucking the tie inside the shirt.
There are those who are in favor of this technique of tie tucking as they feel it gives a clean and crisp appearance to a person's overall personality. On the other side, a certain section is of the view that tie tucking takes away the style and class and the primary purpose of wearing a tie gets lost somewhere in between. However, tucking in a tie into your shirt can give yourself a military-style look that makes you look more edgy.
Worn cautiously, the tie tuck is best executed with a highly patterned or vibrant shirt paired with a plain tie, so the tie is not the focus of the outfit. So think solid color ties with darker colors, such as navy blue or black. The look is also best accomplished with a thin tie because a wider tie might leave too much bulk underneath the clothing.
Again tie tucking in shirts has received a diverse reception from the public. Some find it stylish and comfortable as compared to tucking it in the pants whereas for some it looks absurd and bizarre. The opinion definitely varies from person to person. Some people can pull it off, while for others it may appear as they are trying to protect their tie from drenching into soup. If you feel you have what it takes, give it a shot. It may not give you the standard classy look but it can certainly get you a second glance from everyone. Additionally, it can also work effectively to hide your tie if it's longer in size.
Wearing a tie in the right way and flaunting it with élan is an art; you will find various tutorials online teaching you the right techniques to tie a tie. However, if you want to make a style statement, leave the practicality behind and come up with your own ways to define a new style statement with a tie. Sometimes being edgy with fashion is the best way to create a new trend.