Necktie Fashion Mistakes You Should Be Completely Avoiding
April 25, 2017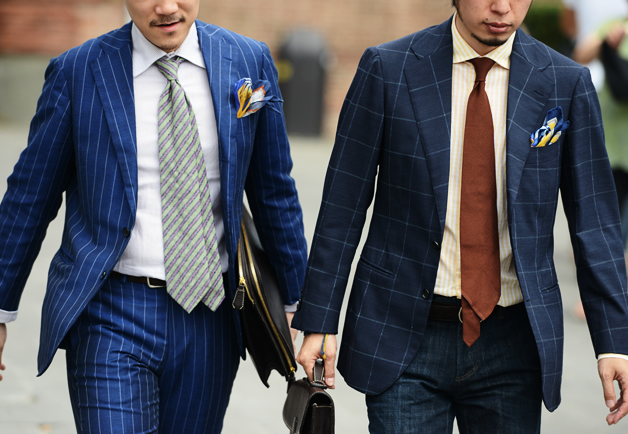 A necktie collection has always been mandatory for me ever since I graduated out of college from the University of Minnesota. Before the graduation ceremony, I received two neckties, a stripped yellow tie and a navy blue foulard tie with green circles. That was the moment when I finally understood the power of a neck tie. Not only do they add value, grace, and elegance to a person's looks but also enhances their personality. I felt more confident as I strolled across the stage to receive my diploma. After that of course, I had to pair my suit with power ties and go through many job interviews until I landed here at Spiffster. Now I own more than 50 different types of ties, and I even have a revolving tie rack!
For a limited time, save 20% off your first Spiffster Necktie Subscription with promo code "LOOKSPIFFY"!
Although wearing a necktie is mandatory in corporate life, it has also become the norm to wear it as part of an informal look or to flaunt your fashion sense. There is a diverse range of formal and informal neckties you can find easily (especially when you subscribe with Spiffster) that can go with any occasion you are heading out to. In fact, we offer many tips about how to tie informal knots for more casual occasions. However, there are some common mistakes to avoid that might cause a negative effect of what they were hoping to achieve. Let's have a look at those mistakes you should be completely avoiding when wearing a necktie.
Clashing Colors and Patterns
While selecting a tie you are going to wear for the event, make sure the colors or the patterns of the tie don't clash with the color of the outfit you are wearing. It shouldn't be in contrast to the shirt or suit, rather it should complement it. Similarly, if the shirt you are wearing already has some patterns, opt for a plain colored tie as a patterned tie with a patterned shirt will give you a very loud appearance that may not leave a positive impact on others. For example, if you're wearing a plaid-patterned suit, do not wear a plaid neck tie!
Awkward Width & Length
Is the tip of your neck tie touching your belly button? In that case, it would be too short. An awkward width or length of a neck tie can single-handedly ruin your appearance no matter how much you spent on that Hugo Boss suit. Make sure that the width of the tie is proportionate to your body type and your overall appearance that includes your suit, shirt, and the tie knot as well. When it comes to the length of the tie, it should end towards the buckle of the belt; wearing it shorter or longer is a big fashion blunder that you must avoid at any cost.
Neglecting the Dress Code
There is a wide range of neckties available and wearing an informal tie with a formal suit or vice versa is considered to be a big fashion mistake; hence, you should have an idea about the types of neckties and wear them accordingly.
To sum it up, neckties make for an essential accessory in man's wardrobe. A tie can reveal certain things about a man's personality, fashion sense, and abilities. However, one must avoid the mistakes mentioned above for getting the perfect and the most graceful look when wearing a necktie. Because looking like a chumbolone is not the Spiffster way.