How to Match Your Necktie to the Season
June 1, 2016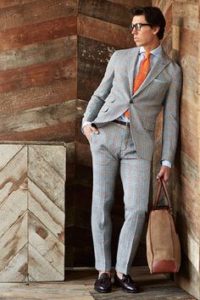 For those who are particular about how they look and present themselves in front of others; should primarily draw their attention towards dressing elegantly. Elegance and charm become a part of you when you dress properly.
For men who want to steal the audience, just by their presence, should start with their appearance. Now men listen! It looks good when you are wearing formals or maybe corporate suits to office but what matters is that your combinations look good. It might be the case that you are wearing a nice looking tie or shirt but when both wore together, might turn out to be a big NO- NO.
So a safe play would be to simply walk with the SEASON.
For a limited time, save 20% off your Spiffster Necktie Subscription with promo code "DADSROCK"!
Summer Season
With all the heat out there you would want to wear something light so that you do not absorb all the heat which would make you burst… Oops! So it is better if you wear a light colored shirt but this does not mean the color needs to be dull. Like, you can wear the color purple but it can be light in color- the lightness depends on the tint you prefer to go with. This is easy! You probably know this. But what can be tricky is the TIE! So if you are wearing a plain purple shirt, combine it with a dark purple tie. Or if you do not want it All Plain, then you can wear a patterned tie with it but it should be dark in color. Besides the color trouble, the other issue can be of what tie material should I carry? So most preferably silk that is wore year-around; other materials can be cotton and linen. Linen is preferable for hot days.
Winter Season
In winters it's harder to stick to combinations because of the cold that tries to pull you down by wearing whatever can keep you warm. But, you can fight it. In winters dark colors are preferable to wear with light colored ties or pattern ties or polka dot ties with plain shirts or patterned shirts. If you want to wear pattern on pattern then wear opposing patterns like a wide patterned or plain shirt with a narrow patterned raw/knit sill, cashmere or wool tie.
But, I think it is fine if you want to wear a light colored shirt, just remember a dark colored tie or if you wear a dark shirt then wear a light colored tie or a darker colored tie than that of your shirt.
So wear a tie color that combines well with your shirt color in the respective seasons along with the right cloth materials. Because the two things that can be pinching are colors and the material of the cloth. Colors have the tendency to either absorb or radiate heat. So wearing dark colors would help you stay warm in winters and wearing light colors in summers will help you stay cool. Similarly, cotton or linen are materials that absorb the least amount of heat, in comparison to materials like, wool or raw silk.