Chris Pine Is Leading the Way in Fashion and Hollywood
October 5, 2017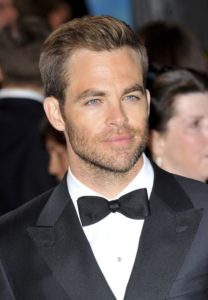 In Hollywood where competition is cutthroat, American actor Chris Pine's stock has been steadily rising and his star has been shining more and more brightly. As Pine has undeniably become one of Hollywood's premiere leading men, it's not only his many silver-screen portrayals that have been turning heads and receiving positive feedback.
Last October, GQ identified Pine as a true fashion icon naming him the International Man of The Year. As he is the brand ambassador of Armani, Pine has consistently put forward wardrobe ensembles that many men can take their style cues from.
One of the many trademark elegant looks of his includes rocking bowties. While you may be thinking that this kind of traditional necktie may only fit a certain individual, Spiffster offers a retort, emphasizing that wearing a bowtie can set you apart and instantly inject confidence into any formal look. For Pine's appearance at the recent Golden Globe Awards, USA Today highlights and applauded his choice of a classic black bowtie for the esteemed event.
Pine certainly seems to have also significantly spearheaded the bowtie resurgence. Esquire explains that men should follow Pine's lead as it seems wearing wide neckties are making a comeback. Not sure about the difference between a thick and thin necktie? Here's a quick fashion tip: sticking to a width that's between 2.75 and 3.15 inches is the wide-necktie standard you should go for.
The 37-year-old actor has definitely forged his own indelible imprint in the fashion scene—the same way he did for one of pop culture's most iconic characters: Captain James Kirk. While the role will always be closely associated William Shatner's original portrayal, Pine took the role and made it his own in the Star Trek reboot film series between 2009 to 2016. Many new fans of the show have grown up with his version of the character. Star Trek is one of the most enduring franchises and it took someone with the star power of Pine to lead the rebooted series. This year the sci-fi classic has once again been revisited on the small screen through Star Trek: Discovery.
Beyond the television and film landscape, the Star Trek influence has also boldly gone to the gaming industry. Star Trek Bridge Crew was released this year, which allowed players to sit in the captain's chair and command their own ship using VR technology. It is the closest experience fans of Star Trek can get to being Captain Kirk. The Star Trek franchise has expanded to many digital avenues to cater to its global audience. Slots title Star Trek: Red Alert from games platform Slingo, uses iconic imagery from the original series that allows fans to interact with the Space-Western universe in a different form. Like the Chris Pine Star Trek films, the game takes elements from the original series and updates it for a modern audience.
Needless to say, Pine is the face of the modern Star Trek multimedia and his embodiment is something that fans will follow for many years to come. Moreover, Pine is redefining how a modern man should carry himself, even when it means going for a classic look. While many may claim the bowtie to be out-dated, remember that they said the same thing about Star Trek, and with Pine leading the way, the franchise came back bigger and more popular than ever.
For a limited time, save 20% off your first Spiffster Necktie Subscription with promo code "LOOKSPIFFY"!