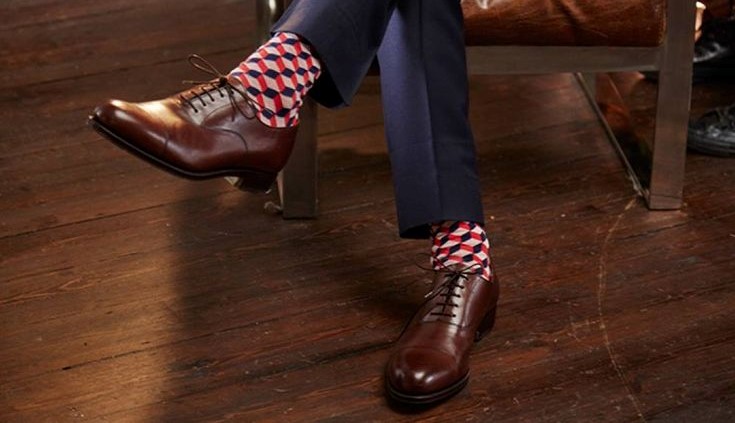 Every man wears dress socks, but most of them don't care much about how to wear it right. Knowing how to wear dress socks right is as needful as knowing how to dress cute. In this post, we're going to be looking at some of the tips to wearing your dress socks right. They are as follows:
For a limited time, save 20% off your Spiffster Necktie Subscription with promo code "CRATEJOY20"!
ENSURE THAT YOUR DRESS SOCKS MATCH YOUR OUTFIT
The number one rule for wearing men's dress socks is; "Your dress sock color should match and coordinate with the color of your outfit especially your trouser", It is certain that this rule was established more than 100 years ago. Nowadays, Things are changing as we are being presented with bright colorful dress socks. Therefore the above rule could be modified a bit. Now it should be "Your dress socks color should match and coordinate with the color of your trousers as well as your outfit appropriately particularly other accessories that you incorporate in your looks like the Tie, Pocket Square, and Lapel Flower Pin."
ENSURE THAT YOU DON'T WEAR BRIGHT COLORFUL DRESS SOCKS IN BUSINESS/OFFICIAL FUNCTIONS
Avoid wearing colorful dress socks in serious conditions such as crucial official functions, business functions, interviews, and in funerals. If you must wear it, then ensure that it's a bold solid color and avoid the polka dot and patterned types. Bright colorful and patterned dress socks are worn to display a bold fashion expression. This kind of socks can be used in spicing up a simple outfit.
ENSURE THAT YOU WEAR A NEAT DRESS SOCKS WITH NO STAINS OR HOLES
You must ensure that you observe this simple rule. If your dress socks are torn and worn out, do not stitch or repair it, do not hide it, just go and get a new one. If it is dirty, then wash it before you wear it. Make sure that you wash your dress socks regularly.
ENSURE THAT YOU DON'T WEAR A MISMATCHED DRESS SOCKS
This is obviously true for many of us, but unfortunately few of us still do not keep this rule completely. For instance, someone may wear black socks on one foot and dark blue socks on another and think that no one will notice it. That is the point I'm trying to make. If you always mismatch your socks with the thought that people will hardly notice it, then know that you're wrong, Most people do notice that, and it has a way of creating a negative impression of the person wearing it, which can be an embarrassment to your personality. So try and avoid it.
ENSURE THAT YOU DO NOT EXPOSE YOUR BAREFOOT AND LEGS WHENEVER YOU'RE WEARING A DRESS SOCKS
Make sure that your dress socks get to your calves whenever you put on trousers. You don't have to show some part of your bare foot or legs, anytime you are sitting, standing, walking. Do not wear socks that is above your knee length.