4 Interesting Ways to Tie Your Tie
July 26, 2016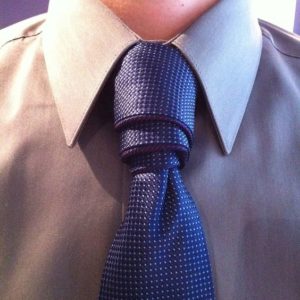 It is no longer rare to find a man who is as conscious about his dressing as a woman, and well, why shouldn't they be? Yes, you read that right; there is no harm in men wanting to dress better than just appropriate or being aware of the latest trends in an attempt to look their best. While many may scoff at the old saying, "Clothes make the man" I for one feel that it is fit for today's fast moving world where everyone is always on their toes and everything happens in a rush, hence people are often unable to take out time to get to know the "real you" which means sometimes all you have is a first impression. We are all aware of the importance of a good first impression, so my advice to you would be to not hesitate in making the best of it. While talking of first impressions the way you dress plays a crucial role, which brings us to our topic of discussion.
A tie is a very common yet vital accessory for a man. While many may not be aware, there are numerous ways in which a tie can be tied to make you stand out from the crowd. While suits can often be boring or dull as they may be more or less the same, a tie can be that one prominent element that you can use to brighten up your look. Here are a few interesting ways in which you can tie your tie. Men out there who've been trying to get attention from that special someone must pay heed to these guide lines.
For a limited time, save 20% off your Spiffster Necktie Subscription with promo code "CRATEJOY20"!
The Fishbone Knot
If you're struggling with how to achieve that chic and sophisticated look you always dreamt of, trust me you won't regret investing your time learning this knot. Though I agree that it might take you more than just a few tries to get the hang of it, it is definitely worth the effort. It looks extremely elegant and classy and will without a doubt catch a lot of second glances.
The Atlantic Knot
This one's not as complicated as the one we talked about earlier and is comparatively quite easy to learn. For those of you who are sick and tired of your everyday office look or want to make a little extra effort to look good for a not-so-formal event, this one's for you.
The Van Wijk Knot
Enjoy being the topic of discussion in a gathering? Here is something for you. This one with its layered effect will definitely get you a lot of intrigued looks and a hand full of "How did you do that?" Its intricate design will definitely get people talking about you and to you. So learn this slightly complicated knot and enjoy all that attention you crave for.
The Rose Knot
Last but not the least, the rose knot is a must know to make sure that, that fine lady sitting across you at that table for two feels special. Yes, that's true, women really appreciate it when men put in a little extra effort to look good for them. This is the knot to make her feel just that.
These four knots will surely help you get your desired look on numerous occasions. Just remember that the way you dress has an immense impact on people's perception of you, so do what you have to and don't hesitate to go the extra mile to make it right.